The Concepts and Work of Issey Miyake
I believe there is Hope in Design.
Design evokes Surprise and Joy in people.
Issey Miyake
Issey Miyake's approach to manufacturing was always rooted in research and experimentation: to "think outside the box" and not be bound by conventional frameworks. Miyake has fostered new ideas by challenging his staff to think beyond trends; and to look at the needs of society at that moment. Miyake created designs and techniques that will endure to future generations.
Issey Miyake first gained awareness of design from his encounter with two bridges in his home of Hiroshima that were designed by Isamu Noguchi: one named Ikiru ("to live") and the other, Shinu ("to die") (1952; later renamed Tsukuru ("to build") and Yuku ("to depart"). He realized that the power of design lay both in empowering people to look at as well as to be able to use the bridges.
In 1960, Japan hosted the World Design Conference, for the first time. It was an international design symposium, whose aim was to promote interactions with the global design world. Miyake, who was studying at the Tama Art University's Department of Graphic Design, sent a letter to the Secretariat asking why clothing design was not included in the program. His focus upon clothing as design rather than fashion attracted attention. He subsequently started to design his own clothes and created clothing for Toyo Rayon's (now, Toray Industries, Inc.) 1963 Calendar by request of art director Jo Murakoshi. This was his first collection. In 1963, after his graduation from University, he announced "Nuno to ishi no uta" (Poems of cloth and stone).
In 1965, Miyake traveled to Paris and worked as an assistant at two fashion houses. He witnessed the May 1968 riots, an event that inspired a determination to create clothing for "the many rather than for the few". This idea has continued to influence Miyake's monozukuri to the present time. The following year, he moved to New York. He gained experience in American ready-to-wear, but began to see the future potential of Japan, which was gaining momentum in many areas ahead of the Japan World Exposition, Osaka. In 1969, he returned to Japan.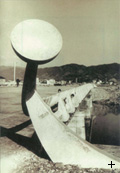 In 1970, Miyake established the Miyake Design Studio and participated in the TORAY KNIT EXHIBITION, presenting a group of clothing in pieces that could be mixed and matched to suit different occasions. In 1971, he participated in the New York Collection. With support from Didier Grumbach and Andree Putman, whom he met at this event, Miyake started presenting his collections in Paris starting in 1973.
From the outset, Miyake's essential touchstone has been the concept of making clothing from "a Piece of Cloth." His process explores the fundamental relationship between the body, the cloth that covers it, and the space and room that is created between these elements, divesting itself of the labels of "East" or "West". Miyake's creative process begins by studying a single thread and creating his material, which then leads to new clothing.
In the 1970s, Miyake's study of and experimentation with new and existing techniques led to the creation of new fabrics, forms of clothing and technologies by which to make them. His studio was driven by a group mentality —the "we" rather than "I" and members such as textile designer Makiko Minagawa and others contributed to the development of a broad range of new materials, techniques, and design ideas.
While learning to harness and refine some of the cutting-edge synthetic technologies of the time, Miyake also visited historic production regions and worked to revitalize traditional dyeing and production that were on the verge of extinction, finding new uses for traditional methods that could respond to modern needs. He received worldwide acclaim for trying to incorporate modern technology with traditional techniques that offered excellent functionality but were seen as outdated, such as sashiko embroidery and leg-guard gaiters.
Miyake has continued his evolutionary quest for new ways by which to create clothing from "a Piece of Cloth" by applying new techniques that address the needs of our daily life. An overview of his work during the 1970s and 1980s is available via in ISSEY MIYAKE : East Meets West, published in 1978 (Heibonsha).
It was the first monograph of a living fashion designer ever published. The book was comprised of a multitude of dynamic photographs and essays by artists from different mediums each of whom explored Miyake's interpretations of "a Piece of Cloth". Ikko Tanaka and Kazuko Koike were the art director and editors, respectively.
In the 1980s, Miyake furthered his exploration of the body's motions and form, enthusiastically taking on the challenge of designing garments using materials other than cloth: plastic, paper, and wire. He called his creations from this period "Body Works." The American art magazine Artforum featured a Rattan-vine Body created by Miyake on its February 1982 cover — the first time clothing had been featured on the cover of an art magazine.
Meanwhile, during the same period, he also started work on a new type of clothing designed to adapt to the needs of an increasingly more modern and informal lifestyle. In 1981, he launched the brand Plantation, which offered clothing that could be worn regardless of gender, age, or body shape. The brand, which used mostly natural materials, featured simple loose designs that were also easy to care for and remains popular to this day among fans. ISSEY MIYAKE PERMANENTE, which was launched in 1985, revived original shapes and fabrics used in previous ISSEY MIYAKE Collections.
It is impossible to tell the story of Miyake's work without mentioning his unique collaboration with renowned photographer Irving Penn that lasted for over a decade, beginning in 1986. Miyake never once visited the studio during the photography sessions. He felt that his communication with Penn was A-Un, or a silent communication. The clothes were sent to New York and styled by Midori Kitamura (current chairman of Miyake Design Studio), with no input by Miyake. Penn's interpretations burst with energy and surprise; Miyake always felt energized and inspired by the other artists' vision of his clothing. The over 250 photographs were compiled into 7 books. This body of work represents not only an archive documenting a unique artistic collaboration but also of the spiritual connection between two creators, separated by two continents.
In 1988, Miyake presented an exhibition ISSEY MIYAKE A-ŪN at the Musée des Arts Décoratifs in Paris. The exhibition focused upon Miyake's explorations with materials, while also presenting his work as a whole. At the same moment, Miyake began to experiment further with pleats, in the hopes of expanding the possibilities of the medium using a new technique and a different perspective. Instead of cutting and sewing clothes from pre-pleated fabric, he first cut and sewed precisely oversized garments using a new fiber with memory, sandwiched them between layers of paper then fed them into a heat-press which shrank them to perfectly sized garments, simultaneously time finalizing the shape and texture. After the success of this technique, he began to explore the medium using different machinery and handcrafting, testing the fabric's response to folding, twisting, pressing, and crushing further using a resulting in a wide range of pleated clothing.
In 1991, Miyake used this new pleating technique to create clothing for the first performance of William Forsythe's new production The Loss of Small Detail for the Frankfurt Ballet. By creating clothing that would allow dancers freedom of movement Miyake found the universal clothing that he had dreamed of in 1968. In 1993, he launched PLEATS PLEASE ISSEY MIYAKE line using the unique "garment pleating" process. The label offered clothing as a product that was easy to wear, to care for and to travel with; practical for all aspects of daily life, comfortable, affordable, and elegant. He continued to pursue avenues through which to create clothing that could suit the needs and lifestyle of a modern woman.
In 1998, Miyake began work on a new project called A-POC (A Piece Of Cloth) with Dai Fujiwara. The A-POC technology is based upon single piece of thread that is fed into an industrial knitting or weaving machine programmed by a computer, and that not only created a new form of mass-produced clothing with many variations, but was also able to control the amount created through the process of casting. A-POC was revolutionary in that the process converted a single thread into a fabric with texture, shape and clothing based upon a computer's translation of an engineering design. The Museum of Modern Art (MoMA) in New York has one of the earliest evolutions of A-POC (QUEEN) in its permanent collection. In 1998, Miyake also presented the ISSEY MIYAKE MAKING THINGS exhibition in Paris. (which later traveled to both New York and Tokyo.) The exhibition presented his work from Pleats (1988) onward and received wide acclaim.
"His work is grounded in that stretch of history called the present and draws meaning from fashion's immediate context. 'Making Things' presents that context with immense glamour and wit" (December 27, 1998 The New York Times).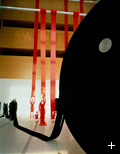 Miyake's work and concepts transcend genres, and continue to draw attention around the world. In 1986, his clothing appeared on the cover of America's Time Magazine (January 27th issue), along with an article entitled "Changing Clothes: Issey Miyake," which dug deeply into his approach to creation. Later he was chosen alongside Mahatma Gandhi, Mao Zedong, the Dalai Lama, and Emperor Hirohito for a special 1999 Time feature on the "Most Influential Asians of the 20th Century" (August 23-30 issue); and was introduced as the "Beauty Maker." The article stated, "With the future as his guide and nature his inspiration, the path-breaking Japanese designer has created clothing with enduring, global appeal." The French magazine Le Monde 2 visited the Miyake Design Studio, and introduced Miyake and his staff's work as "not a maison de couture, but a laboratory for development and production, unparalleled in the world" (December 10, 2005 issue).
In 2004, Miyake established The Miyake Issey Foundation (which became a foundation for the benefit of the public in 2011). In addition to creating an archive of his own work, the Foundation seeks to further the evolution of design in society for the next generation by training professionals and introducing his work to young artists from all over the world. In 2007, the Foundation opened 21_21 DESIGN SIGHT (designed by architect Tadao Ando), with the support of Mitsui Fudosan Co., Ltd., located in the Tokyo Midtown complex. Miyake was appointed as its director, along with Taku Satoh, Naoto Fukasawa, and Noriko Kawakami. The center hosts exhibitions whose themes are fashioned from the unique perspectives of the different directors and have had great impact both in and outside of Japan.
Miyake also assembled a select team of experienced and young staff members from within the Miyake Design Studio known as the "Reality Lab" to further encourage projects based in research and development. The Reality Lab implements R&D focused upon the the environment and resources looking to address the concerns we share about the world for future generations. The group launched the 132 5. ISSEY MIYAKE collection in 2010 and successfully developed the IN-EI ISSEY MIYAKE lighting collection in 2012.
In 2013, Miyake produced the "Aomori University Men's Rhythmic Gymnastics Team" performance at the Yoyogi National Stadium's Second Gymnasium, choreographed by Daniel Ezralow. He had greatly enjoyed the team's performances and organized the event as way to share their activities with a wider audience. The clothing he created for this event evolved into his next evolution: the HOMME PLISSÉ ISSEY MIYAKE collection.
HOMME PLISSÉ ISSEY MIYAKE was designed as modern everyday clothing for men whose day-to-day needs are no longer rooted in suits and ties but rather reflect the reality of men's current lifestyles. The HOMME PLISSÉ ISSEY MIYAKE technology is based upon the PLEATS PLEASE ISSEY MIYAKE technique but tailors the level of thread and fabric weaving and knitting to adapt to men's clothing.
In 2016 an exhibition entitled "Miyake Issey: The Work of Miyake Issey" was held at the National Art Center, Tokyo. The exhibition's focus was upon Miyake's work from the outset and clarified his approach to design and making things. The exhibition illustrated a clear evolutionary path of Miyake's creations throughout the years by showing them in the context of the new technologies that had not only made them possible but also inspired a new generation of young designers.
In 2018, the Italian architecture and design magazine Domus featured an in-house research project simply called Session One. The clothing in the series had been developed with his young staff members whose only directive was "wild" and which used a "jacquard-style" textile made from 12,000 polyester and cotton threads. Session One, in which a single piece of cloth transforms into a three-dimensional pleat when heated, is a project that emphasizes the process of thought created by rethinking the relationship between people and clothes from their earliest origins rather than from the clothing itself.
In 2022, the Miyake organized an exhibition "Christo and Jeanne-Claude 'L'Arc de Triomphe, Wrapped,'" which was held at 21_21 DESIGN SIGHT. The show presented the full story leading up to the project "L'Arc de Triomphe, Wrapped," conceived by the contemporary artists Christo and Jeanne-Claude in 1961 and realized 60 years later in September 2021 in Paris. Despite the passing of Jeanne-Claude in 2009 then Christo in 2020, Miyake, whose close friendship with the two artists had endured for many years, pushed ahead. His exhibition in Tokyo allowed visitors to its realization through dynamic videos and spatial compositions.
Miyake's work and philosophy transcend genres, and are globally recognized. Miyake consistently came up with universal and novel ideas, through his concept of manufacturing based upon the idea of "a piece of cloth". His inspiration combined traditional techniques both from Japan and elsewhere with cutting-edge technology.
Miyake expanded the possibilities of design while always keeping an eye on people's changing lifestyles, the needs of society, and the environment. The staff members who have inherited the torch continue Miyake's spirit by embracing new challenges and move forward into the future.